Retail Therapy, where do we begin? The first question to ask yourself is , 'Why do I own so much clothes?' And unconsciously you begin to remember how Sola got you so upset last month and one way to feel better was to shop and shop, which made you so happy. Yes, the thought of new items makes some people feel better and that's where the art of retail therapy comes to play. Shopping, they say, is therapeutic, hence you'd always find yourself in a retail therapy whenever things aren't pleasant. Well, maybe not everyone get to do this, after all, your bank account has a role to play in this too, right?
Aside this, as humans, we find ourselves wanting the next trendy outfits. Our old outfits tend to bore us quickly especially if we are a social butterfly who want to be seen at the next event. The question then is, how often do you buy clothes? And how often do you restyle old clothes? If the answer to the first question is Always and the latter is Seldom, I can imagine your closet looking like a mountain of clothes, without space for more.
Dearest friend, I think it is time for you to clear it out and declutter. I know how difficult it can be for us to want to let go of that beautiful dress you've only worn once for a 2-hour event. But then, do you know about sustainable fashion? Do you know the more clothes you buy, the more waste you are creating? Like Shop Aday design ethos, every piece in your closet should be able to "be worn different ways, for different activities, on repeat."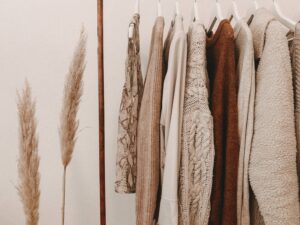 Why are you wearing or buying clothes that cannot be worn again, repurposed or thrifted? If you are, you are contributing to environmental waste unconsciously. But now that you are reading this article, it becomes a conscious art.
Things to Consider Before Your Next Retail Therapy
1. Shop less
Always opt for outfits that you can wear multiple times in different ways like two-piece sets, sleeveless dresses (can be worn as bought or layered), staple pieces like white shirts, black tops, jeans, blazers, little black dress and neutral color skirts. With these, your styling options are limitless and you definitely can wear them multiple times without having to buy more.
2. Buy Clothes From Sustainable Brands
There are a number of sustainable brands with clothing that last longer, softer and even stronger. These include H & M, ASOS and Urban Outfitters. You can shop different pieces from their website via the sustainable category and be rest assured you are not increasing landfills with your choices.
3. Learn to Sew or Fix those Clothes
You cannot always throw out every clothes over little mending issues. Fix them instead. This is a simple craft you can pick and enjoy overtime. It could be a missing button, you can easily replace them without help. If you've shopped an outfit that seems too big and doesn't fit, work on adjusting it to fit rather than throwing it out. Otherwise, you can thrift them or donate to charity homes.
4. Thrift
Rather than burn or fill up the bin with those clothes you no longer need, please thrift them. You'd be surprise at the number of users who will love them and want them.
Have you been thinking of what to do with those clothes you've put aside for the next bin day, kindly visit our
website
and request for your declutter kit and we'd take it up from there.
If you'd love to read more articles from us, kindly subscribe to our newsletter
here
.